Do you need some fun? Distance from the day-to-day? Are you starved for a truly romantic romance that takes you places you wish you could go?
Hana Sheik, another SASSY SCRIBE, is a woman who delivers. And with a lush, poetic style to stirs hidden wells. Some you may not realize you had. Translation: SATISFYING.
So read on and rejoice!
Kwanzaa in His Castle, Hana's debut novella, is one of eight sweet reads included in SNOW IN LOVE: A  Sweet Romance Holiday Collection now on pre-order at Amazon for a mere .99 cents.
That's eight stories, peeps, featuring eight diverse voices, and a swath of holidays to cover whatever might cause you stress over the coming months.
Thank you Readertainment!
Yes, we love our holidays, but sometimes they don't share until after the melt down. So prep yourself for winter blues or just catch the holiday spirit. Order now. With a snuggly blanket and/or bubble bath when the time is right, you'll be glad you did.
(Self-care is ESSENTIAL all year round but especially when we're expected to shine.)
So, Hana, to mix it up, here's a different question. Do you prefer city or country living? Does this impact the settings of your stories? (I'm in a country mood myself what with life becoming increasingly complex. Ugh.)
Tough choice. I'm a city girl, born and bred. But I would love to move to a small town, and a part of me even dreams to own a farm or ranch. Silly, but I think it's the idyllic peace the country offers that can be too much to resist. In reality, the closest I get to country living is when I stop by at my local farmer's market to do my part supporting smaller, family-owned farms.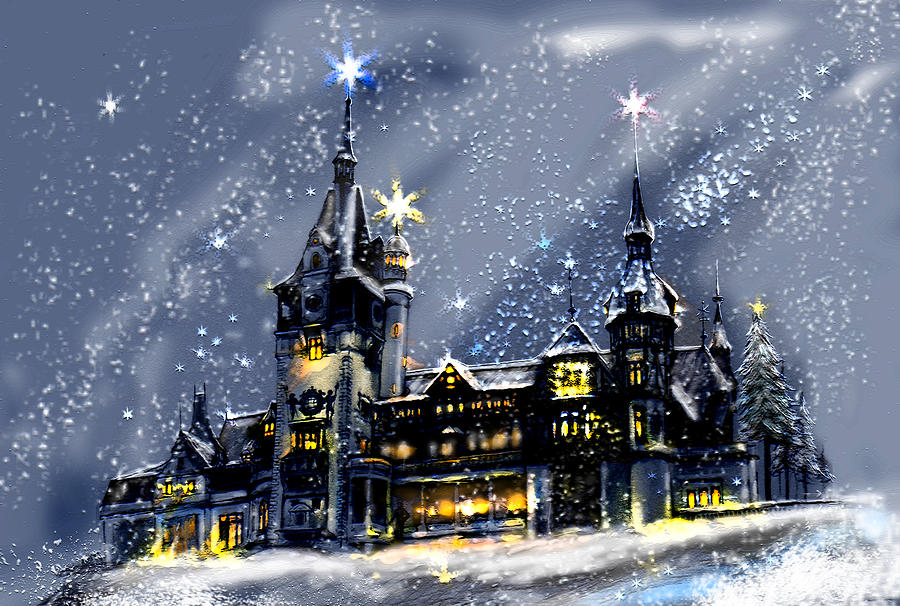 For my debut novella, Kwanzaa at His Castle, the country setting is important because it gives both my hero, Tyson, and my heroine, Imani, that rare opportunity to be snowbound in a castle. It's extreme as far as "one-on-one time" goes, but it has to happen! I love my forced proximity stories.

Bring on the close-quarters…the perfect setup when your secret crush owns a castle. Well done, Hana. What motivated you to write this latest novel? And what would you like readers to take away from the experience of your words? (Those things that move us move me, so I have to ask!)
I work retail, and I've worked it on and off for a decade. Working retail through the holiday season, I've encountered customers who've wished me a "Happy Kwanzaa". My family and I don't celebrate Kwanzaa, but it's a pan-African (non-religious) celebration that has its roots in the American civil rights movement.
I won't go into a social history lesson, but to keep it short, I wanted more diversity out there. Being a black author, and loving my holiday romances, I just HAD to write a Kwanzaa romance! And I'm hoping to get the opportunity to write more Kwanzaa romances in my career, but for now, I'm giving you Imani and Tyson's love story this Kwanzaa and holiday season.
I'm hoping readers get to learn more about Kwanzaa, and ultimately, get a chance to be whisked away by a millionaire to a country castle this holiday.
Okay, Hana, you're doing great. History lesson or not, you've got me wanting more. Couldn't help noticing Imani, your heroine, takes her name from the 7th day of Kwanzaa. Cool beans.
But onto the SERIOUS question: What does your desk look like and what do you "think" it says about you? (Can't help the sarcasm. Mid-Covid has me crazy. Thanks for your patience!!)
As you can see, my desk space/"office" is pretty bare. I do like it this way—call me the Marie Kondo of writers! I prefer the minimalist approach.
Besides, I'm like a squirrel. Any little thing can drag my attention from a day's work of writing, so I keep my desk clutter-free of distractions. (Says my opposite twin!)
And don't get me wrong, I collect my fair share of office supplies. I gotta have the Post-It notes, the highlighters in five different colours, the fancy pens, the abundant pencils, etc. Also when I say "collect"; I mean hoard. Ha! (I knew it!!!)

But as of now, my plotting happens digitally. So, all my notebooks to sketch ideas and brainstorm are tucked away and waiting for the day that I return to them. Again, just my preference.
I do like to keep photos of my family nearby. They've been supportive of my writing aspirations and career from the very start, and I keep their photos close by as a reminder of how truly blessed I am to have such an amazing support system. ♥
You are blessed, Hana. Family is supposed to help on the journey of discovering exactly who we are. And who we'd like to become. I'm so happy your dear ones support your craft–your career. In that we are very much alike and likely why I consider you part of my family, too.
SASSY SCRIBES are the bomb, the BEST, and we're on a roll. Empowering one another to reach goals and go for it! Whatever "it" may be. Thank you, Hana, and thank you, Readers, for staying tuned.
Feel free to comment or lurk as you wish, but know that I'd dearly love to engage with my audience. If only to better know what you want to hear. Let's talk! And let's talk about it.
Write on!
For those who'd like to know more about Hana Sheik and keep her on their radar, please, follow her at: